This year marked my 10th year photographing French Quarter Festival for the amazing team at French Quarter Fest Inc. Ten years really does go by fast when you have fun doing your job. I am constantly humbled and honored to be able to be put into the best role to document this one of a kind festival. Being able to be trusted to tell the story of a music festival that is solely centered on Louisiana music is a privilege I cannot understate. Each year that goes by I get better and more efficient at seeing the magic before it happens and being in the right spot for it. After all these years I know the times, locations, and light patterns of the French Quarter in the 2nd week of April like no one else does…and that feels good to have the camera ready!
For years I have enjoyed bringing you this gallery of my BEST OF FEST – so enjoy and spread the link if you like what you see! These images are for your enjoyment only – feel free to share THIS LINK to share the joy. If you see yourself in any of these images let me know, and I'll send you a copy! No images may be used to promote any 3rd party services or businesses.
** BIG UPS to Stephen MacDonald for carrying a Paul C Buff Einstein, beauty dish, and battery for 2 days straight! I couldn't light up those shadows without ya!
The Kinfolk Brass Band led the opening day Second Line to start the 36th Annual French Quarter Fest. ©Zack Smith Photography
I love shooting the opening day second line. Each year at least 4 brass bands pepper the streets of the French Quarter blowing loud and proud. This year the talented Kinfolk Brass Band led the charge down Bourbon Street, straight to the heart of Jackson Square. Each year I challenge myself to get a new angle, a new look, or a new story in the often over shot French Quarter. As a New Orleans photographer who has shot brass bands and the French Quarter so many times, the goal here is to keep challenging myself to find ways to showcase the moment for my client, but also find a new layer of light, color, and expression of joy in the same frame.
The low rising sun can be troublesome shooting down the blocks of Bourbon Street. Though it's nice to find it bouncing off fresh polished cymbals and horns. ©Zack Smith Photography
Tips on shooting outdoors in alternating light conditions
As I am making this post I thought I would throw in a little "how to photograph light" section. Bare with me photo lovers, this is for the learners…Each block during this second line presents it's individual challenges. When the parade starts at 10am-ish, the sun is just high enough above the horizon to shine light down each cross street of Bourbon, all the way until the parade turns at St. Peter (or sometimes St. Ann, depending on which police officer you ask that day). At the "turn street" you get some of the most magical shots since the light on the band is warm and golden while the background houses and blue sky are lit up perfectly by the sun. Your challenge until then is to go back and forth on exposures to prioritize your subject. Once you get the hang of it you can actually sink back into photographing and not thinking too much!
Light beaming through the streets of New Orleans has it's challenges, and then again has it's rewards. ©Zack Smith Photography
A New Orleans photographer in his wheelhouse
My tenth year shooting French Quarter Fest was not really known to me until I started doing this blog post. But as I walked around this year there was a heightened sense of nostalgia mixed with purpose. I was set on getting to certain stages and areas when the light was perfect while hitting my marks and clearing my shot lists. I made sure that I was at Dwayne Dopsie's set towards the end as I knew he'd go out into the crowd. I showed up late to Bruce Daigrepont, but I was able to lineup a sweet backstage portrait. This year I made the most of every opportunity wether I showed up early or late to a set, I was there in the moment and that's all that counted. Catching a soundcheck can be just as glorious as the set itself…
Preservation Hall Brass open Day One at the French Quarter Fest Hilton stage. ©Zack Smith Photography
Glenn Hall Jr and Lil Glenn and Backatown opened up the Tropical Isle stage on Thursday. This was also my 10th year photographing this talented soul!
Washboard Chaz and The Tin Men setup to play at the GE Capital Stage on Day One. ©Zack Smith Photography
One of my favorite compositions: Band + Crowd + Riverboat + Blue Sky. Tin Men open up the day at the GE Stage. ©Zack Smith Photography
Artist and Designer Ashley Porter poses inside her Mirror House at French Quarter Fest. ©Zack Smith Photography
Cha Wa perform at the Abita Stage at French Quarter Fest. ©Zack Smith Photography
Photographing Friends, photographing new orleans
If you live here long enough and document the music culture of New Orleans, you make some friends along the way. Photography becomes personal and almost takes on the feeling of a "family photo" as you document the same creative souls year-in year-out. You watch their evolution and joy through the center of your lens like a movie unfolding in front of your eyes. Your only hope is to do them equal visual justice to the sounds they've given you over the years.
Cajun musician Bruce Daigrepont poses backstage for a quick portrait. ©Zack Smith Photography
Jon Cleary plays to a packed French Quarter as he closes out Day One at the Chevron Stage. ©Zack Smith Photography
Galactic closes out the Abita Stage during their first appearance at French Quarter Fest! ©Zack Smith Photography
French Quarter Fest Day One was a wrap! Here's a few more pics!
day two of French Quarter fest: longer days means more moments
Day one of shooting any music festival is what I call "getting my festival legs": my goal is to find ways to stay on target with my shot list while being creative, walking fast and effective, as well as staying hydrated. Here are some of my favorites from Day 2 – festival legs and all.
Torrence Taylor dances at Joe Lasties' set, giving bow to a beautiful soul and crushing drummer! ©Zack Smith Photography
Drummer Joe Lastie is all smiles, as he usually is! If you don't know Joe – GO SEE JOE! ©Zack Smith Photography
Chance Bushman of the NOLA Jitterbugs gives his daily swing dance lessons as he does so effortlessly! ©Zack Smith Photography
Audacity Brass Band tore it up at the new LA Fish Fry Stage at the U.S. Mint. ©Zack Smith Photography
So many moments, so many faces! Seen here in the gallery below are: Haruka Kikuchi, Wendell Brunious, Roger Lewis and Percy Ellis, Delfeayo Marsalis and Brice Miller, drummer Paul Thibodeaux, Gal Holiday, Brice Miller and Brice Miller Jr., Jeffrey Broussard.
n n nn n n
Quiana Lynell performs at the Hilton Stage, and cracks her own band up in the process! Such a powerful new voice in jazz! ©Zack Smith Photography
Sunpie Barnes closes out the Chevron Stage. You can ask him too…it was definitely feeling a bit like summer that day. ©Zack Smith Photography
grammy winners Lost Bayou ramblers close out in blue hour…
day three of French quarter fest: let the crowds get cozy…
Saturday of festival usually means that everyone is off of work, kids are out of school, and the French Quarter is the city's second home. The lawn chair and blankets create a landscape that cover the festival grounds like a patchwork maze while the kids play tag and weave in and out of food and drink lines. For a photographer trying to cover alot of ground, you have to make use of your time photographing the moments when you get it. Alot of your day is spent walking, dodging, and just plain "cutting through" the crowds.
Trumpeter and bandleader Desmond Venable lead students and fire up the crowd. ©Zack Smith Photography
n n nn n n
Will Smith serenades with the Storyville Stompers Brass Band. ©Zack Smith Photography
Chance Bushman and the Ibervillianaires had the swing dancers swinging early at the Traditional Jazz Stage. ©Zack Smith Photography
Bryan, Louis, and Kirkland are seen lugging their gear to the Michot Melody Makers set. Hard workers. (Period) ©Zack Smith Photography
Festival Moments from an action packed Saturday
Cyril Neville, Dwayne Dopsie, Mia Borders, Big Chief Monk Boudreaux, "Bangkok Swing" dancers, Paul Lafleur
Dwayne Dopsie and Paul Lafleur get low into the crowd for one of the greatest send off's ever on Saturday. ©Zack Smith Photography
Flow Tribe close out Saturday night's festival at the Chevron Stage. ©Zack Smith Photography
Day four french quarter Fest: The big finish of festival
Sunday is sometimes just another day. But for me, the last day of a festival is your last chance to tell the story by any means necessary. You walk from the Aquarium to the U.S. Mint and back all day if you have to. Just get get the shot, and finish big.
Maggie Koerner performs at French Quarter Fest amongst a sea of fans and the Mississippi River. ©Zack Smith Photography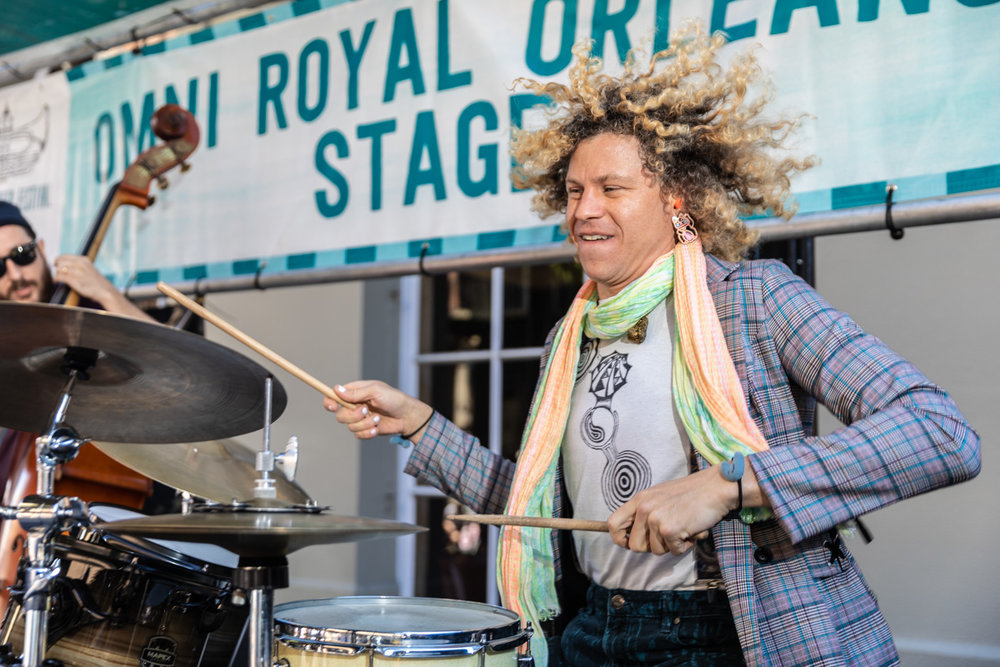 Drummer Simon Lott performs with Jesse Morrow on Royal Street in one my favorite music moments of my 10 years shooting French Quarter Fest. ©Zack Smith Photography (below: Brad Walker and Jesse Morrow)
Brice Miller brings joy and funk to his set at French Quarter Fest. ©Zack Smith Photography
Anthony and Rockin' Dopsie always make people dance and get up! Great seeing these consummate performers! ©Zack Smith Photography
that's a wrap! looking back at four days of hustle and creativity.
Being in the right time in the right place sometimes takes, well, ten years and sometimes more. Pictured above is Debbie Davis, the Daquiriu Queens, Maggie Koerner and Jason Jurzak in their zone, in the place that they shine. Oh, and the Lucky Dog shot? I don't know, it's just so….New Orleans right? There were shots that I anticipated this year, and some shots I downright just missed. What often helps me get over that is just enjoying the moment where I'm at and making the most of what is in front of me, cause you are always missing something amazing! I hope you enjoyed this gallery! Please share and credit the culture!
Rockin Dopsie mid air in a full split? One of my "bucket list" shots…done. What a performer and all around great dude. ©Zack Smith Photography
Tired photographer post-fest with gear. Photo by Matt Owens.