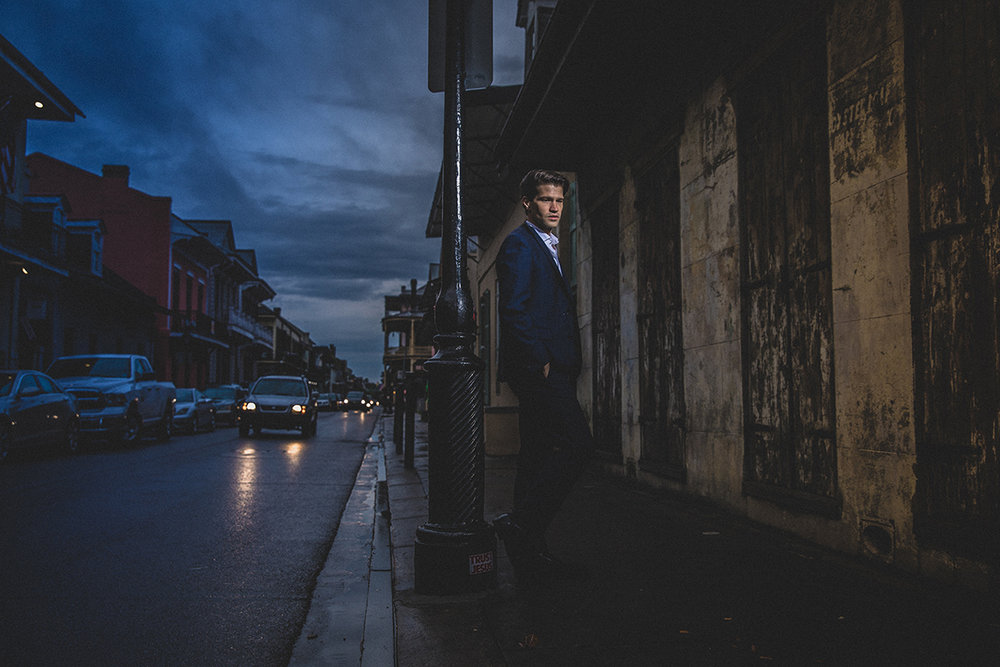 James Martin photographed in the French Quarter. ©Zack Smith Photography 2019
"One Foot in the Swamp…and One in the Street" has been my motto for some time.
It's been two years since I moved my office out of my home, opened up shop, and hung a shingle on Magazine Street. Having a my photography studio centrally located in such a great spot in New Orleans has been wonderful, minus the drive time from St. Bernard Parish.I have been truly blessed during that time to watch my business grow helping other businesses, brands, people, and artists tell their story in a creative and captivating way. I couldn't be happier but I really could share more photos with you!
My business has branched out to include more product and food photography along with the steady flow of portraits, headshots, events and workshops. I have an amazing team of editors, photographers, and copy editors who I trust with my life and that trust comes with letting go sometimes…and asking for help. I am having fun with focus stacking, HDR compositing, and doing things out of my normal workflow. I have found that delicate line between balancing the creative and functional photo shoots easier to walk as I continue to have One Foot in the Swamp and One in the Street
I hope you enjoy a few of my favorites over the last few months. I am truly grateful at the trust given to me by so many talented local makers, doers, and creatives. Please check them out and support what they do. I mean, EAT AT THE JOINT MORE!!
Now that's a piece of meat. The Joint owner Peter Breen cuts into a slice of brisket.
New Orleans food photography is tasteful and tasty!
Shooting food photography is truly an art form. I respect those that do it so well around me like Eugenia Uhl, Sara Essex Bradley, and Josh Brasted. I love what they do, and I never gave myself the time or even the opportunity to be open to shoot food. I always felt that a food photographer should be masterful, calculated, and intentional. I mean, I could be all of those things with people, so why not try a piece of meat? A moist but crusty tasty rib or slow pulled pork? I recently jumped at the chance to photograph my friends Pete and Jenny's amazing New Orleans barbeque spot The Joint in the Bywater. I didn't even think about it when Pete said he needed portraits, food, and shots of his smoker. I salivated and agreed. Happy I did – we did some creative lighting schemes like backlighting an open smoker, fire, and I got to experiment with focus stacking!
---
---
New Orleans headshot photography can be relaxed, confident, and fun for just about anyone.
Bringing out the best version of a stranger is the ultimate exercise in humility. Not only does my subject bring with them their unique personality traits and expectations, they have their own internal questions, struggles, and apprehension. My job is to cut through any walls that may be put up between us when my camera comes between our conversations. A creative and professional headshot sounds easy but it's not. Yes – it's easy to see the real person when you just talk to them, camera at your side. But how can you continue that connections when the lights come on and the lenses are up? I continually strive to be present for them in this situation to bring out the best version of them.
From left to right: Huber, Thomas and Marcelle lawfirm, Jerome Jackson, Cameron Brown
New Orleans business architectural photography and HDR compositing!
When Jet Design/Build contacted me to photograph interiors and exteriors of their new build out of True Food Kitchen on Julia St I jumped at the chance to try my hand at some multi image High Dynamic Range architectural photography. I photographed each of the photographs above at different times of the day: dawn, mid day, and dusk. I was able to capture the range in tones of a perfect sky but also get some images at night to flood out the interior lights. Creating a multi image composite is not easy task. I used a tripod, marked my positions, and logged my settings so each time of day I came back I could reproduce that composition.
Photographing New Orleans musicians in the studio and on the streets has always been my happy place.
When local musician James Martin and Joel Jackson of JDV Booking contacted me to talk album artwork I was stoked to say the least. I have always been respectful of the art of demeanor or James Martin since I saw him play with bands through Jazz Fest and French Quarter Fest gigs through the years. His approach to his parts no matter who he was playing with were approached with mastery and power, while off stage you met a kind, low key, direct human. Love that. James was particular about his look, feel, and mood the album artwork, even sending me old LP's and online examples of the feel he wanted. I love the old 1950's and 60's jazz artwork, reminiscent of my former mentor and master, Herman Leonard. I was honored to carry that torch with a new generation of jazz in New Orleans. We did some studio photography then went out at dusk to capture the blue mood of a wet city street. In attempting to capture even more mood, I created a Lightroom filter in James' honor: Blue Mood James Martin. See it above, and go listen to his music!
---
Union Studios in New Orleans is fabricating dreams!
I had the pleasure of hanging out in a hot shed photographing the owners and creators at Union Studios on Broad Street. Daisy and Colin are beginning to make a name for themselves through the fine design, wood work, and fabrication they have done for clients around the city. When client and photographer trust in a vision it is easy for the creative spirit to thrive. We set up multiple scenes at their studio that helped tell the story of what they do from a hands-on textural level to wide view collaborative scenes. I really enjoyed listening to them talk about their client creative process and workflow as we moved around their shop lighting things up!
---
What is a gallery without Dirty Coast?!
Long time friends and supporters over at Dirty Coast have always given me the go ahead to get creative at all costs. We recently shot inside some of the most historic landmarks New Orleans has to offer: The Prytania Theatre, Domilises' Poboys, Peaches Records and 4 parked empty streetcars! We had a blast creating, eating, and making a mess of some great shirts.
---
Product photography in New Orleans can bring you to meet some creative souls
Ok so who doesn't have an online hustle nowadays? Wether it be Amazon, eBay, etsy, Poshmark, or a variety of other online stores the barrier to entry in selling online remains attainable. But the e-commerce owner who wants to bring their store to the highest level must start with excellent photography that stands out in a crowd of competitors. At my studio I am able to convert a portion of my space to create simple and effective product photography, and if I wanted, this could be a steady flow of business for just about anyone. But the thing that attracts me to product photography in New Orleans is that each product someone creates, makes, and puts out there has as story unique like no other. I got to recently work with the amazing folks at the Trombone Shorty Foundation, RIYA, and local milliner (look it up!) Maria Etkind and each person had a conviction and passion they brought to each product. You know, that shows through. Oh, and I shot some diamonds!
Who likes lagniappe?
Here are a few images I have made recently that don't fit into any business perimeters but still keep me sane and creative. Enjoy and share and KEEP SHOOTING FOR THE WALL!